En la volá de los mineros que en verdad me tiene bastante aburrido, me acordé que mientras los sacaban de la mina, empecé a pensar cuál sería mi cast ideal para la película y cuál sería el nombre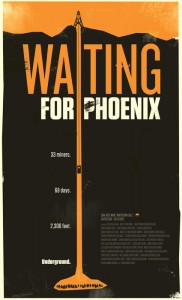 perfecto para dicha película, pero se me adelnató Adam Campbell con el nombre y el poster, que está muy bueno.
Si no están de acuerdo o tienen a alguien mejor, hagan sus elecciones y me cuentan en un reply.
Ojo que algunos mineros no están, más que nada por un tema de relevancia. Si se les ocurre alguien para los que faltan, cuénteme!
———————————————————————-
When I was watching the rescue operation I started to think which would be my ideal cast for the obviously movie to come, and the name of it. Luckly, Adam Campbell avoid me brainstorm and make this awesome poster with an excellent name.
Now if you disagree with my list or have a better actor for the role, just let me know and reply right here! BTW, there are just a few miners, because I picked the most relevant of the list, so, if you have some name for the rest of the miners, go on and tell me!
Luis Urzua, Jefe de Turno

Sean Connery

Franklin Lobos, Ex Futbolista

Benicio del Toro

Carlos "el Boliviano" Mamani

Mario Lopez

Yonni "El Califa" Barrios (2 women miner)

Al Pacino

Carlos Bugueño

Diego Luna

Richard "Futuro Papá" Villarroel

Gael García Bernal

Ariel Ticona

Jhon Leguizamo

"Super Mario" Sepúlveda

Robin Williams

Edison "Elvis Atleta" Villarroel

Javier Bardem

José Ojeda, autor de la nota

George Clooney,sin pelo xD

 

José "El Pastor" Henríquez

Hector Elizondo

Florencio Ávalos

Matt Damon

Victor Zamora

Luís Guzmán

Jorge Galleguillos

Danny Trejo

Lawrence Golborne

Henry Cusick

Andre Sougarret

Phillip Seymour Hoffmann

Jeff "El Gringo" Hart

Brad Pitt

Sebastián Piñera y Cecilia Morel

Martin Sheen y Mary McDonnell

Esposa 1/ Random Wife 1

Salma Hayek

Esposa 2/ Random Wife 2

Kathy Bates

Hija Minero Viudo / Widow Miner's Daughter

Leonor Varela

Hija Minero 2 / Miner's Daughter 2

Monica Raymund

Romagnoli, Experto ACHS

Jean Reno

Ministro Hinzpeter

Stanley Tucci, pero con pelo xD

La Infaltable Periodista Gringa Metida / Sneaky Journalist

Nicole Kidman

Ingeniero Miguel Fort

Tommy Lee Jones

La Amante Choriza del Minero Califa / Miner's Mistress

Roseanne Barr
Tags: 33 Mineros, asi con los mineros, Chile, estupideces notables, Gobierno, Noticias, ocio, Película, Piñera, Rescate, TV, WTF